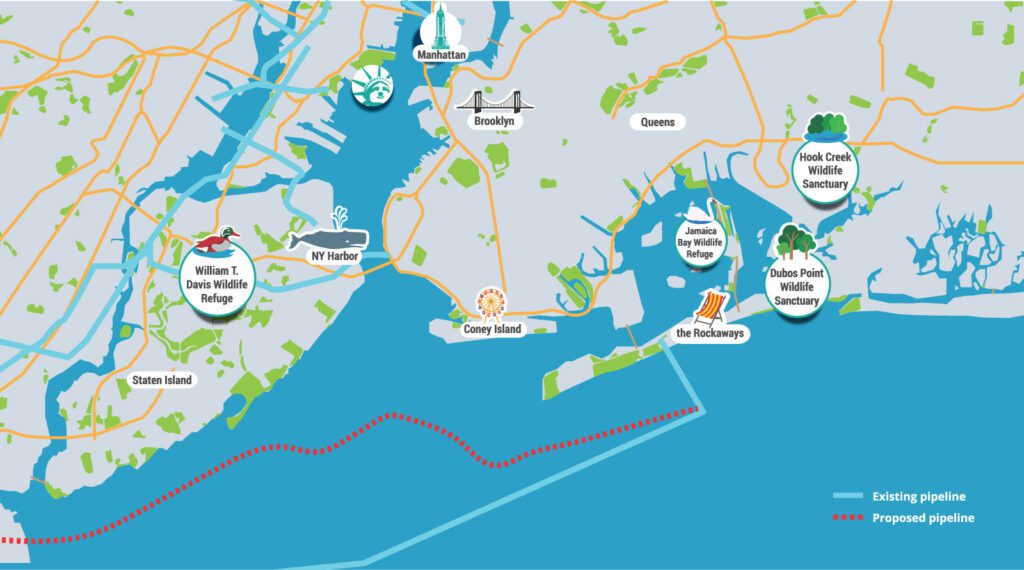 350.org: Earlier this month, Governor Andrew Cuomo delivered his annual State of the State address, where he committed to a Green New Deal for New York, including a $1.5 billion investment in wind power, directives for state agencies to study fossil fuel divestment, and a new goal of 100 percent clean power by 2040. But he didn't say anything about stopping fracked gas infrastructure projects—and there's no such thing as a "Green New Deal" that includes pipelines. Unless Cuomo takes action, the Williams fracked gas pipeline could be built right in New York Harbor.
>>>Urge Governor Cuomo to block the permits for the Williams pipeline.
Citizens for Alternatives to Animal Research and Experimentation: In a laboratory at John Hopkins University, a group of monkeys spend their lives as research subjects for brain experiments. Two of these monkeys—Aragorn and Isildur—were recently used in experiments to investigate which region of the brain is involved in human gambling. Aragorn has been confined and used in these types of experiments for nearly 10 years. This madness has consumed $2.5 million in federal dollars since 2015, supposedly informing scientists about the human brain's involvement in human gambling behavior. These twisted and unnatural experiments are not simply callous, they are also totally unnecessary. Using methods that enable non-invasive brain monitoring, neuroscientists can directly study blood flow and electrical activity in the human brain as willing participants carry out tasks with computers or simulated casino games, including people with actual gambling disorders.
>>>Urge the National Institutes of Health and Johns Hopkins University to put an end to these cruel experiments and immediately release the monkeys to a sanctuary.
Born Free: Dolphins are self-aware and wide-roaming, and they have complex social and emotional lives. How would anyone still consider it acceptable to confine them in tanks for entertainment? Sadly, the Tropicarium aquarium in Budapest, Hungary, is proposing to do just that—despite a ban on the imports of dolphins into the country. To date, the aquarium has not applied for an exception to allow the import of dolphins, but plans have been published in the media.
>>>Urge the Hungarian Minister of Agriculture to uphold Hungary's ban on dolphin imports.
Care2: As Spain's hunting season comes to an end, so do the lives of the dogs who were used to help hunters track and kill game. The worst part? This Spanish tradition of executing these dogs is performed by the animals' owners. During the annual hunting season in parts of rural Spain, each hunter purchases around 10 to 70 Spanish greyhounds, called galgos. Dogs who don't perform during the season are abandoned and left to starve to death, thrown down wells, shot or, more traditionally, hung. An estimated 100,000 galgos are killed each year by their owners. The root of this rampant killing is the fact that hare coursing—the cruel sport of using galgos to hunt down live rabbits—is still legal in Spain.
>>>Urge the Spanish government to end the ritual killing of hunting dogs by banning the cruel "sport" of hare coursing.
V.I. Dolphin Voices: Dolphins will be held captive for financial gain and entertainment at a new dolphin enclosure built by Coral World Ocean Park located within Water Bay, St. Thomas, a body of water that has been deemed as unsafe for swimming and fishing by the Virgin Islands government. It is cruel and unhealthy for dolphins to be confined and permanently housed—especially in a body of water that is so frequently polluted by pathogens.
>>>Urge Carnival Cruise Lines to not market and/or sell cruise ship excursions to the future dolphin enclosure at Coral World Ocean Park in St. Thomas.
Parting thought…
"Do the right thing. It will gratify some people and astonish the rest." —Mark Twain
---
Earth | Food | Life (EFL) explores the critical and often interconnected issues facing the climate/environment, food/agriculture and animal/nature rights, and champions action; specifically, how responsible citizens, voters and consumers can help put society on an ethical path of sustainability that respects the rights of all species who call this planet home. EFL emphasizes the idea that everything is connected, so every decision matters.
Click here to support the work of EFL and the Independent Media Institute.
Questions, comments, suggestions, submissions? Contact EFL editor Reynard Loki at [email protected]. Follow EFL on Twitter @EarthFoodLife.