Last week, the North Carolina chapter of the United Daughters of the Confederacy—the organization that has done more than any other to put up Confederate monuments and ensure they remain standing—held their annual multi-day gathering in Durham. They were met by a group of anti-racist activists. Organized by Heather Redding and other members of Hillsborough Progressives Taking Action, the demonstration also included activists from local chapters of other anti-racist organizations. Protesters sported t-shirts provided by the Make It Right Project emblazoned with messages opposing the UDC's neo-Confederate agenda.
Check out photos of the action below. More on the UDC's history and current actions—which include erecting a monument to the Ku Klux Klan, ensuring Southern children's textbooks properly schooled them in the tenets of white supremacy, and successfully spreading the Lost Cause mythology, which twists history to turn the Confederate fight for slavery into a noble cause—is available here.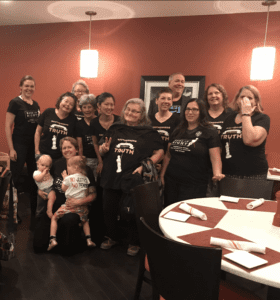 (l-r) Susan Christine Reynolds and Heather Redding of Hillsborough Progressives Taking Action.